When this blog launched four months ago, Dr. Helen Vassallo was my first interviewee. She talked about her Translating Women research project and the first annual conference of the same name, co-organised with Dr. Olga Castro to unite academics, industry professionals and translation activists at the Institute of Modern Languages Research at Senate House in London 31st October and 1st November 2019.
Back when I interviewed Dr. Vassallo in August, the prospect of attending, let alone being able to present Project Plume, was but a faraway dream. I'm happy to say it came true last Thursday and Friday, when I was gifted 48 hours among the faces on my most cherished Twitter avatars. Each day, from 10:00 to 20:00, there were rounds of fascinating and inspiring talks about the geopolitics and economics of translated literature with perspectives on publishing from Brazil to Bangladesh.
Meanwhile, ongoing tech issues prevented me from live-tweeting the event (which, if you want a retrospective, was under #TWconf2019).  The following is a chronological recap of just some of my key takeaways from a profound learning experience, and a celebration of books in translation and the people who make the magic happen.
On Day 1, I arrived flustered and tardy to the registration desk due to London Underground rush-hour and the untimely failure of my phone apps. But as soon I had my name tag and a #BeMoreOlga pin (a nod to Helen's open letter to the Nobel Prize for Literature for more redeeming choices like Tokarczuk), I knew I could relax and that we were in for a real treat.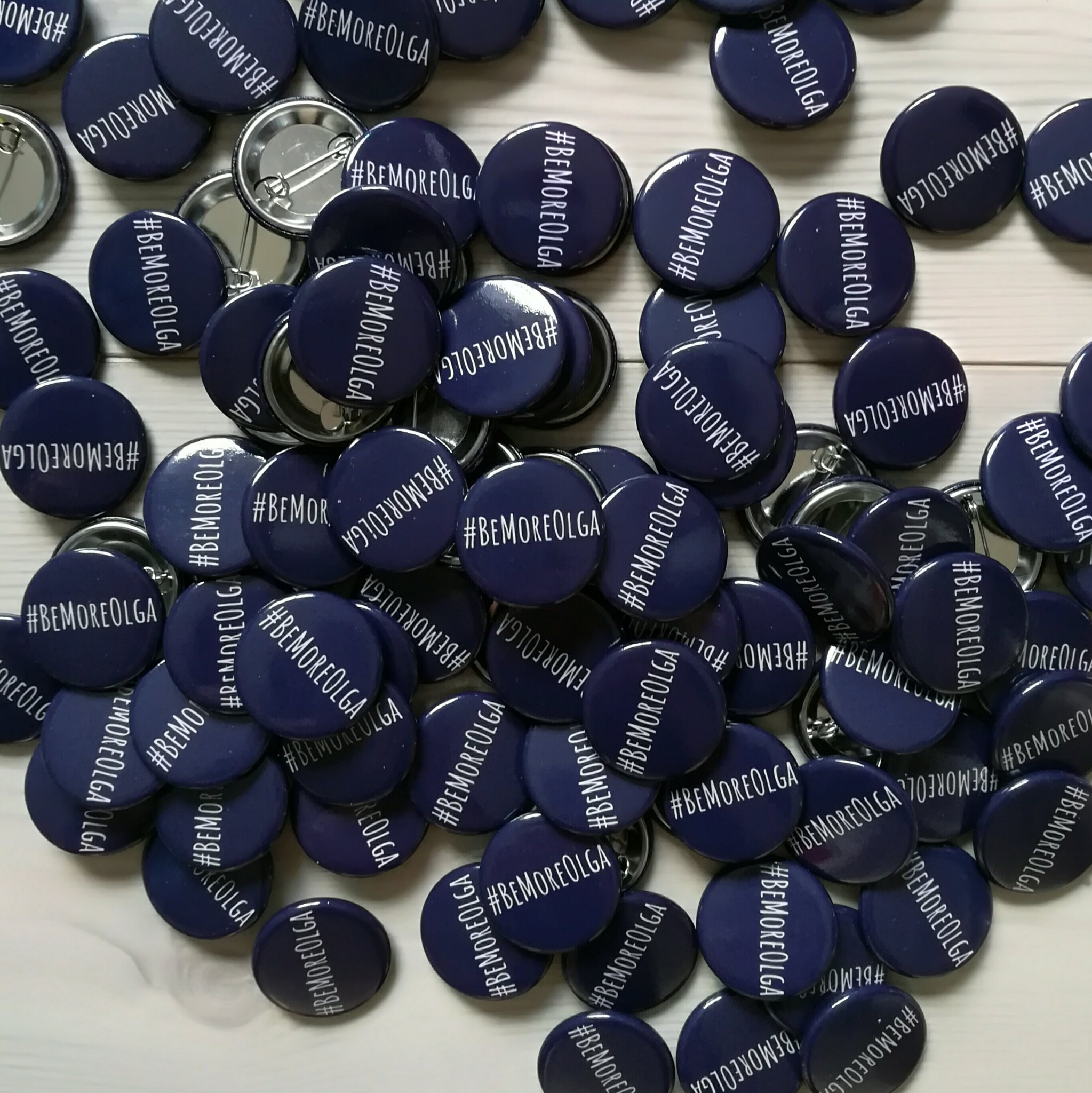 DR. MARGARET CARSON ON THE "WHY'S" & "HOW'S" OF WOMEN IN TRANSLATION 
As soon as Helen Vassallo and Olga Castro were done welcoming all of us, we dove right into the inaugural keynote by Dr. Margaret Carson, translator and former co-chair the PEN America Translation Committee, and co-founder of the Women in Translation Tumblr with Alta L. Price.
Carson began by describing her 'snap!' moment as her realisation that, in 2014, every single one of the 30 authors published by Dalkey Archive Press in translation was male. The data she compiled thereafter was stark, showing "a significant gender gap in what gets published in translation, a gender gap in literary awards, and a significant gender gap in what books in translation are reviewed". She added, "If you're not reviewed, you're not relevant to [the conversation]."
During her talk, Carson enumerated the reasons behind "Why" translated literature by women authors remains so overlooked by the US publishing industry. She listed a range of factors related to visibility, from the male-dominated appearances at international festivals, also often government-sponsored, to the gendered notion of the "Great Writer".
Another recurrent reason editors give is that the lists of authors they get pitched – again, translations which are often sponsored by the source government – are imbalanced when they receive them. Carson rejected that: "No, [editors and] publishers can ask 'Where are the women writers?'"
It serves as a reminder that it took Jennifer Croft ten years to find a publisher for Flights before Fitzcarraldo Editions picked it up. "When the next Olga Tocarczuk appears," said Dr. Carson, "It should not take years of effort by her translators to find an English-language publisher."
She also recognised there were many movements bringing women in translation into the conversation, going through a timeline from the 2008 launch of The Three Percent Translation Database by Chad Post of Open Letter Books, the VIDA count initiative launched by women writers to keep track of how many women authors were featured in literary magazines and awards, and Alison Anderson's 2013 post on World Without Borders (which Carson notes is probably the most-read article on the website).
But the Women In Translation Movement really kicked off in 2014, when Meytal Radzinski (who was also in the audience) proposed that August be known as #WitMonth. Then, in 2017, came the Inaugural Warwick Prize for Women in Translation, also featured on the programme. This was followed by Kamila Shamsie's call for a Year of Publishing Women, with the publisher And Other Stories taking up Shamsie's challenge in 2018.
While acknowledging that thanks to a greater consciousness of the historical imbalance, multiple literary awards have recently been granted to women writers, Dr. Carson also warns that we have to "keep pushing to prevent reversal". Read more women, organise conferences, write to editors, cite more women,  question and challenge canons. She concluded her keynote by saying that ultimately, "the Women In Translation movement should be to have fun."
VISIBILITY OF WOMEN IN TRANSLATION
Next up, Nicky Harman, translator of the Chinese, provided an insightful lens into the Chinese publishing scene. She presented various testimonials taken from a series of interviews with Chinese women writers, a demographic that remains heavily underrepresented in English translation.
Her findings showed female sci-fi writers face the most discrimination in the national publishing industry, due to lasting perceptions of what women can or can't write about. But the perspectives among the interviewed varied greatly from woman to woman, with some writers rejecting there is any gender discrimination at all, in spite of the statistical imbalance. Meanwhile, another writer is quoted as saying the prevalent perception among publishers is that "there are two species of writers: writers and women writers".  
Harman said it is a fact that although there are many women authors in China, it is largely men who win literary prizes, which is the main route to getting translated abroad. There are many other writers who are starting to speak out about discrimination in publishing, particularly in the aftermath of the #MeToo movement in China. Helen Vassallo's interview with Nicky Harman, teased at the conference and now published on the Translating Women blog, elaborates on her paper in greater detail.  
*
Rosalind Harvey, a freelance literary translator of Hispanic fiction and co-founder of the Emerging Translators Network, spoke of "the triple absence" of Latin American women authors in English translation. She identified the "first absence" as the low proportion of translated literature in the English-language publishing industry, the "second absence" as that of Latin American writers who get translated, and the "third absence" being that of Latin American women writers.
Harvey responded to an essay by fellow transaltor Matt Bucher who, in his essay "Beyond Bolaño and Beyond", called for more Latin American writers in translation but failed to mention a single woman author among the dozens of names he cited. The full essay titled A Response to "Beyond Bolaño and Beyond", is available online for you to read on the Full Stop website.
I enjoyed her anecdote about a former classmate who wondered aloud why they were reading "so many women" in their literature module. "Two out of six had seemed too many to him," she said, "until [I] pointed out that it wasn't even half." Rosalind Harvey echoed Margaret Carson's earlier observation of the "blindspot" when she added, "People in positions of power can often be blind to others' powerlessness".
*
Aysun Kiran from University of Marmara in Istanbul presented a paper on English translations of bestselling Turkish author Ece Temelkuran using paratextual analysis (i.e. looking at cover images and blurbs used to market the book). She found that these tended to emphasise negative stereotypes about Turkish culture and identity. This was often against the translator's intention, which brings up the question of the translator's agency.
Kiran gave the example of the English title of Temulkuran's Turkey: The Insane and The Melancholy published by Zed Books in 2016. The original Turkish title did not have Turkey in there at all in the title; this was added no doubt in anticipation that Western reader's interest in Turkey's political crisis. As Nicky Harman, who was also on the panel, later said: "Women writers are treated as documentarists rather than novelists."
What I also found striking about Kiran's findings was the apparent structural barriers on the publishing side. Zeynep Beler, translator of Temulkaran's Turkey: The Insane and the Melancholy, reported having no agency over the title in spite of her protest to the publisher not to add the word Turkey to the title. Her name is nowhere to be seen on the cover.
Meanwhile, Alex Dawe, the translator of another novel by Temulkaran, Women Who Blow on Knots, tells a very different story with his publisher Parthian Books. When faced with the same scenario in which the publisher wanted to change to the original title against his wishes, he says he was granted the final word. His name is in bold print on the back cover.
*
TRANSLATION AS ACTIVISM
Next, we were transported all the way to the Polynesian Pacific region by Jean Anderson, a French translator focusing on indigenous Polynesian writers and Associate Professor of French at Victoria University Wellington, New Zealand.
Anderson began by showing us a map of the region, noting how sheer geographical isolation of the islands acts as a major barrier to exporting its literature abroad. "It's a very small potential literary market," she said, quoting Robyn Bargh that the region is perceived by the European market as "one large hole on the other side of the world".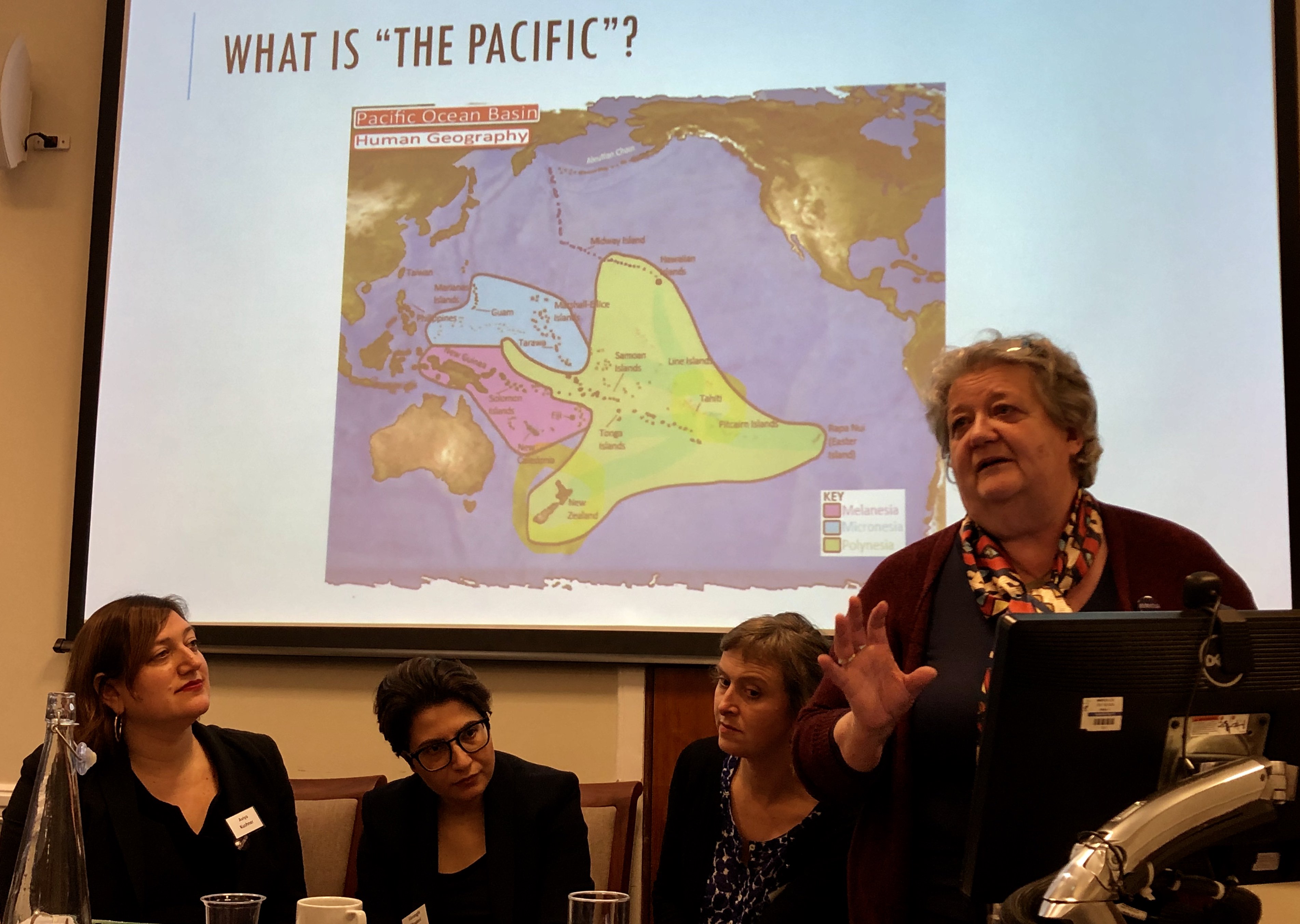 Another huge issue is the cultural imbalance between English-speaking and French-speaking Polynesia in terms of both representation and government funding. The implication is that the French government tends to discriminate against exporting indigenous writers from French Polynesia whose work might be critical of the French government or who to choose to implement Polynesian French dialect.
Anderson introduced us to the Tahitian writer Chantal T. Spitz, the author of the first-ever novel by an indigenous French Polynesian writer, L'Ile des rêves écrasés (The Island of Shattered Dreams, translated into English by Jean Anderson for Huia Publishers in 2007) and a unique poet who defies linguistic constraints of the "classical" French. Spitz also founded Littérama'ohi, a literary magazine dedicated to French Polynesian writing, which underpins a growing movement to improve the representation of indigenous literature locally and abroad.
*
Aviya Kushner, poet, linguistic researcher and translator of Hebrew, gave a fascinating talk titled "Women (Writers) Who Don't Follow The Rules". She spoke of how translators sometimes play a role in perpetuating negative expectation bias when pitching work to publishers. Meanwhile, she reported that the attitude of publishers who are being pitched to is often "'I won't read what you've written as I already know what I want you to say'" rather than focusing on the "wild individuality" of each writer.
She described how she overcame the pressure to take a political angle when pitching two fascinating Israeli poets she was translating, Yudit Shahar, "a poet of the Isareli working class", and a collection titled The Naked Empress, featuring "poems about having sex at eighty-nine years old". Rather than succumb to the pressure to frame women writers as political agents, Kushner suggested that "highlighting the individuality of women writers is the best strategy against patriarchy". She advised translators to "frame your writer your way" and pre-empt expectations borne from political or cultural bias.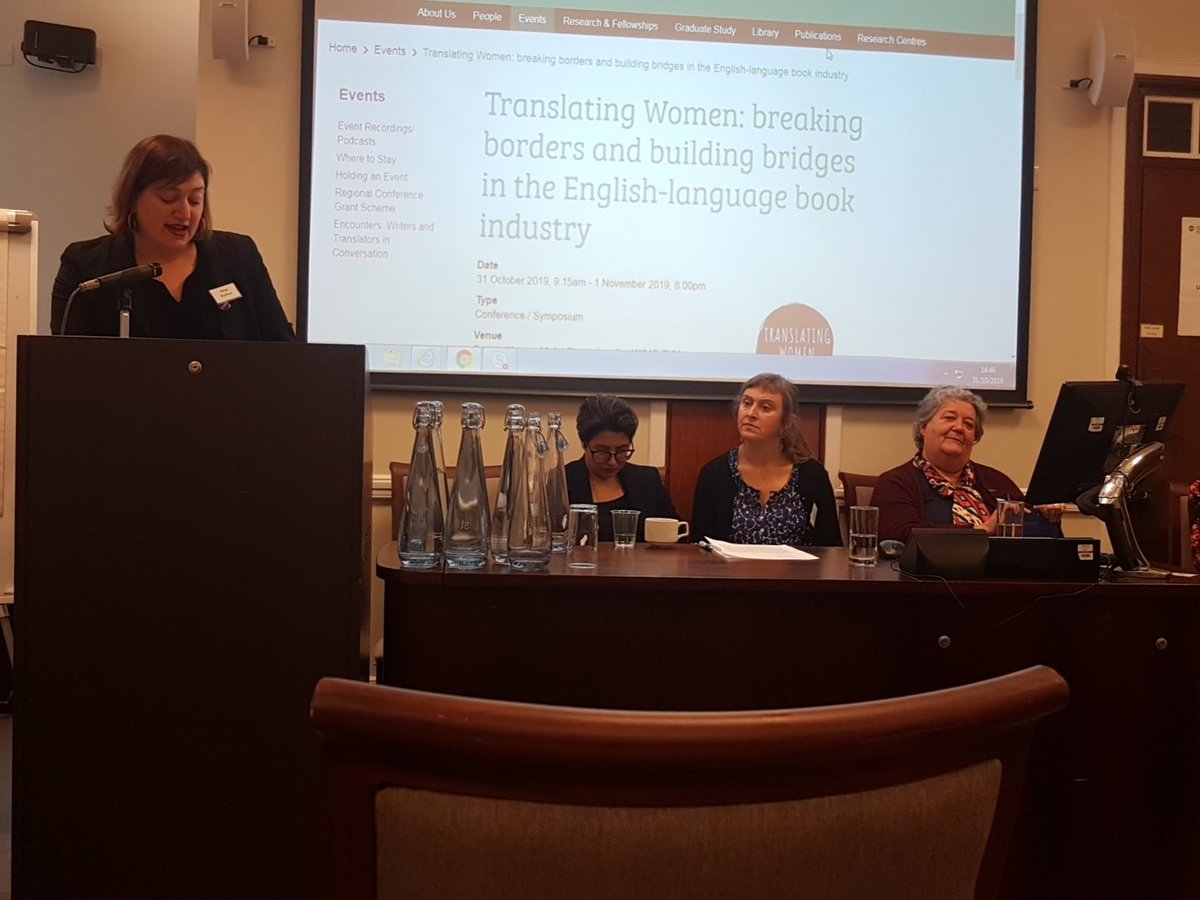 We also heard from Clémence Scalbert Yücel and Farangis Ghaderi from the Institute of Arab and Islamic Studies at the University of Exeter. They talked about translating Kurdish women's texts into English. With the only 16 Kurdish books currently in English translation all written by men, the "invisibilisation of Kurdish women" echoed Rosalind Harvey's notion of a 'triple absence'. The presentation featured some interesting justifications quoted from publishers attempting to 'justify' the lack of women writers that had the room laughing (pictured below).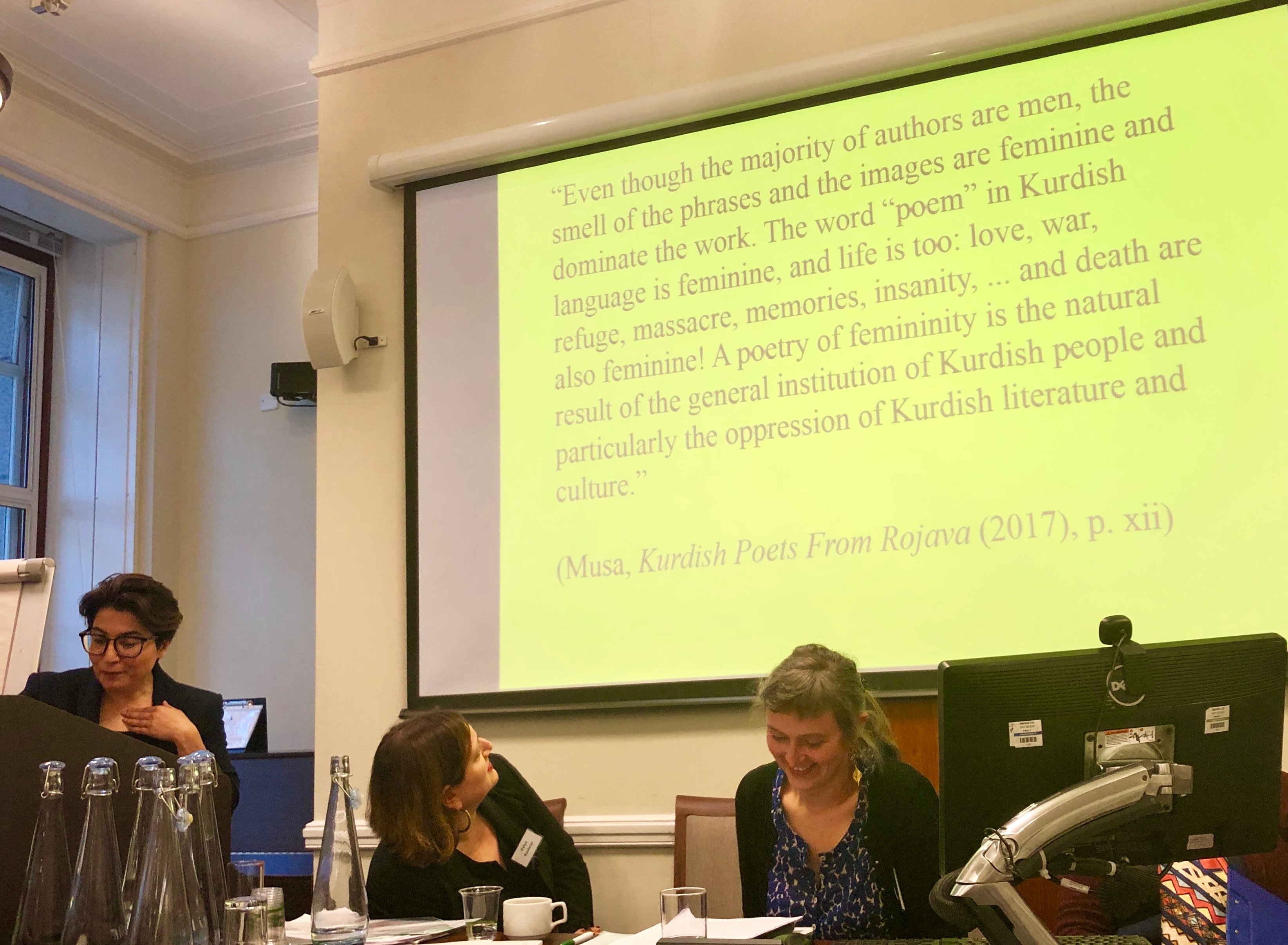 WOMEN WRITERS IN AND ON TRANSLATION
Novelist Eva Moreda was up next to talk about the self-translation of her originally Spanish novel into her native Galician, as well as the English translation of her novel from Galician by Craig Patterson, Home Is Like a Different Time. She gave an overview of factors affecting the funding of Galician literature in Spain, including economic crisis and a right-wing government in the region that is not interested in supporting minority languages and cultures.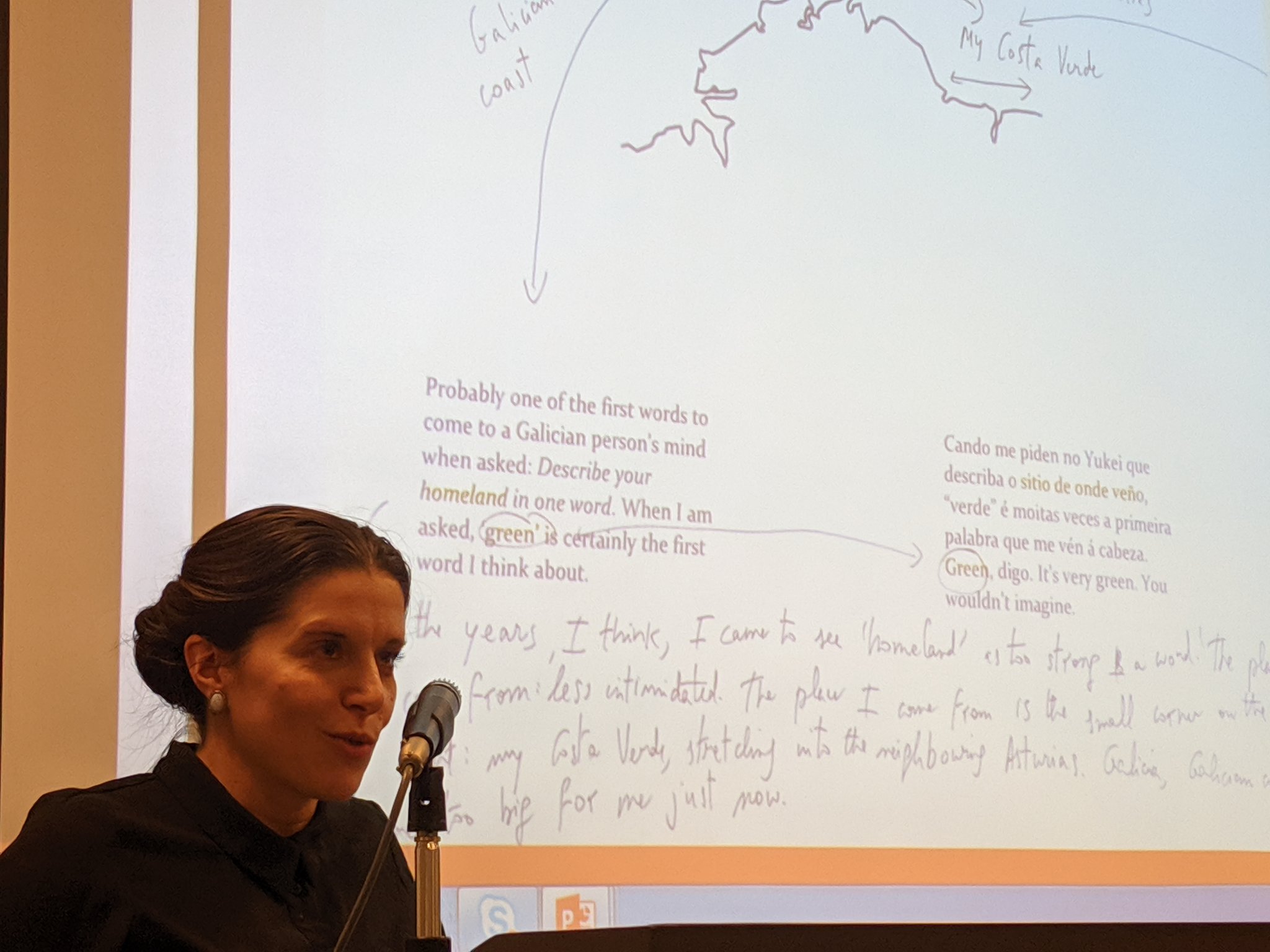 With little government sponsorship available to help export Galician literature, it is tiny local publishers who end up paying for translations. One such example is the small Galician indie press Xerais who funded the English samples which got picked up by FB Publishers in the UK.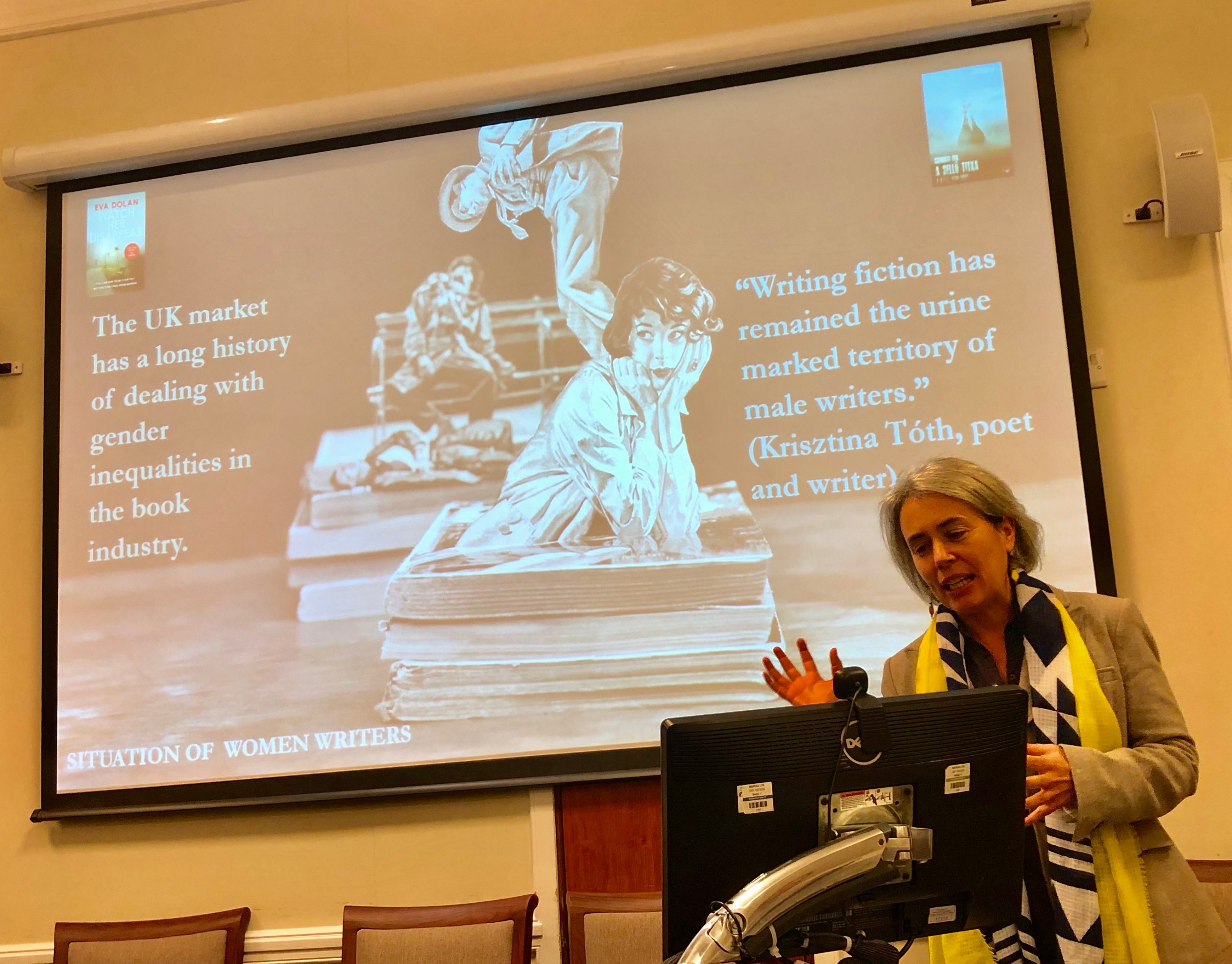 Our next destination was the world of crime fiction with Eva Cserhatí whose presentation was both insightful and full of wit, opening with the following quote by Hungarian poet and writer Kristína Tóth: "Writing fiction has remained the urine marked territory of male writers." She described to us her journey to self-translation as a female crime writer and the huge hurdles she faces on both the source and target side. Once again, we found out that while female crime writers outnumber males in Hungary, this is not reflected in the prizes.
The follow-up presentation by Anna Menyhért, writer and professor of digital trauma studies at the University Of Amsterdam, who is also from Hungary, focused more on the existing structural sexism in the Hungarian publishing industry. Her 'snap!' moment was seeing the National Library's Christmas card collage in which there were two dozen authors from the Hungarian literary canon, not a single one of them a woman.
Menyhért thus spoke about how women writers get written out of the canon in spite of having been influential in their time. Together with Anna Bentley, translator of Menyhért's nonfiction chronicle Women's Literary Tradition and Twentieth-Century Hungarian Writers published by Brill academic press, they introduced us to five women writers "whose legacy literary criticism has been neglected or distorted". Menyhért also spoke about her fictional biography of a real twentieth-century Hungarian woman writer, Renée Erdos. who produced a considerable body of work while little else remains known about her life other than her being "the wife of Sandór Bródy".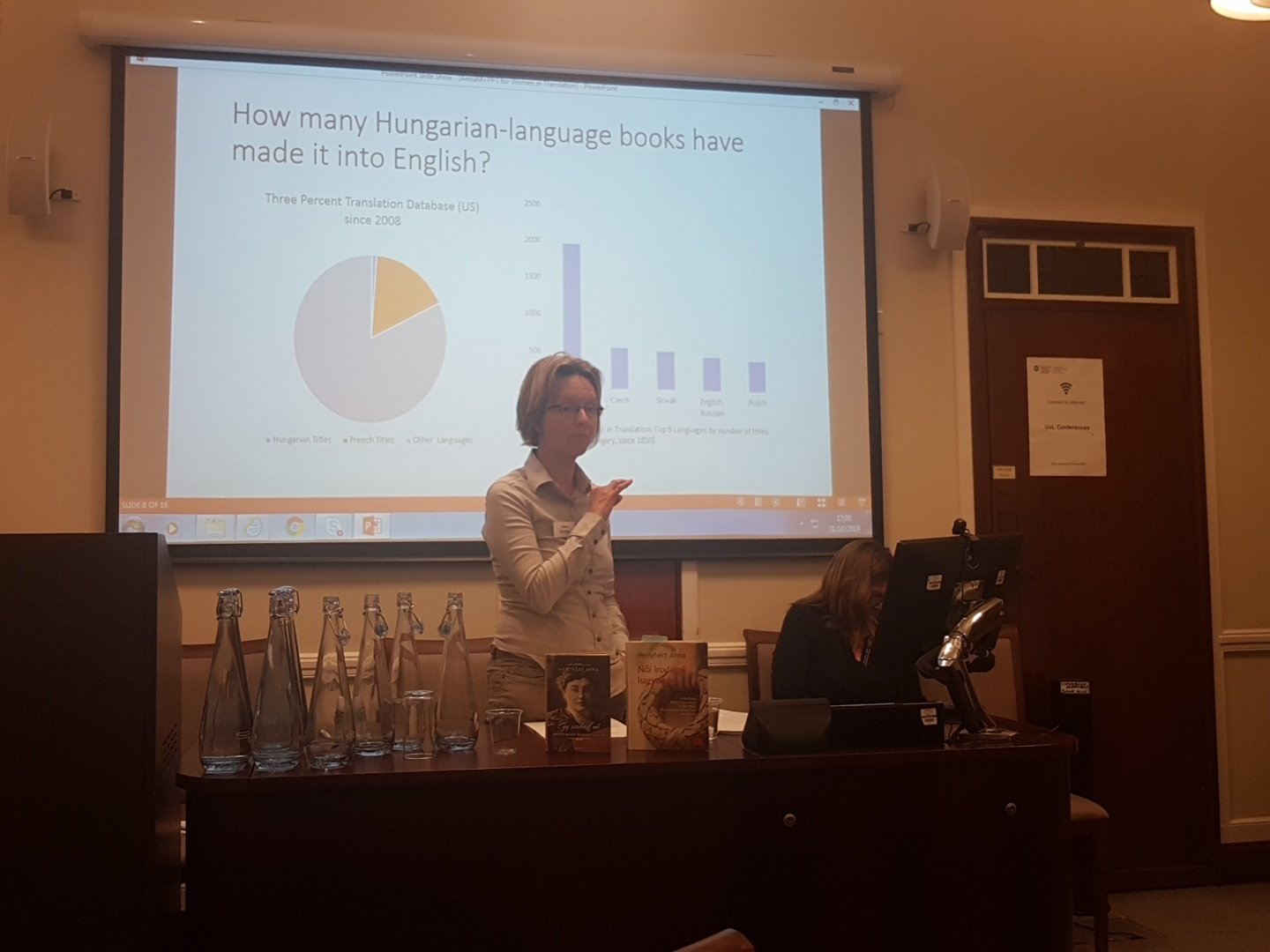 As part of her presentation, Bentley showed how few Hungarian books in general are translated into English in the US, listing the reasons from geographical distance to cultural difference. From the audience Richard Mansell, who had chaired the previous panel, had his laptop open on the data from Literature Across Frontiers and interjected with, "I bring good bearings!" The news was that statistics were up for Hungarian in translation, putting it in the top 15 most translated European languages faring better than, for example, Turkish, Finnish and Czech between 2000-2015. That left us with a positive note to end the day of panels.
*
AUTHOR AND TRANSLATOR IN DISCUSSION: NÉGAR DJAVADI & TINA KOVER ON DISORIENTAL
The author and translator encounters were the highlights of each evening. On the first night, we were lucky to have a wonderful session with Négar Djavadi, multi award-winning author of Disoriental (Désorientatale) published by Europa Editions in 2018, and her translator into English, Tina Kover, chaired by Helen Vasallo.
Négar Djavadi spoke about her play on words of the title in the metaphorical as well as literal sense of "losing one's shadow when going from East to West". But she countered, "No one [in the press] ever asks me about a question about the lesbian woman in a fertility clinic", which is central to the plot and a controversial topic in France. "The whole story, any story, becomes eclipsed by immigration."
Tina Kover shared how she never talks to the author while working on a translation. She also revealed that she always translates on the first read of any book she works on, "I don't read the book, I don't even crack it open [before I translate]. I feel exactly as the reader does going through that journey." About Disoriental, she added: "I've never experienced such intimacy with any other book I've worked on in such a visceral way."
The recording of this encounter will soon be made available by the website of the Institute of Modern Languages Research.
*
INITIATIVES PROMOTING WOMEN IN TRANSLATION
The next and final day of the conference, I got to sit in a line-up of heroes and represent Project Plume on a panel of initiatives promoting women in translation chaired by Dr. Olga Castro. The session was opened with a presentation from Godela Weiss-Sussex and Heike Bartel about the Encounters seminar series, featuring dynamic discussions between authors and translators in front of a live audience in London and Nottingham that are also recorded and available online.
Next, Chantal Wright talked about the past, present and future of the Warwick Prize for Women in Translation. While the prize has been gaining ground and incurring more publicity since launching three years ago, Wright told of the challenge she faces in transmitting the value of translated literature to funding bodies, while increased publicity of the prize also results in more uncompensated labour. I'll be looking forward to hearing the results from the 2019 Warwick Prize for Women in Translation following the prize-giving ceremony on November 20th!

Margaret Carson returned to the front of the room to talk to us in greater depth about the Women in Translation Tumblr (which I later used to get the graphs featured in the recap of her keynote). She also presented several of the initiatives she is involved to increase the visibility of women writers from other cultures in English, notably Wikipedia editathons and making data about women in translation easily accessible online.
Meytal Radzinski, one of the most influential individuals behind the Women in Translation movement, founder of #WITMonth, and a direct inspiration of this very project, gave an account of how she has enjoyed seeing the movement flourish, observing how the SEO ranking of the term "Women In Translation" rose exponentially year-on-year since she proposed #WITMonth on her blog in 2014. She also humbly told the audience that she was "just" a reader which made everyone smile since readers are, after all, her audience's raison d'être!
I was extremely honoured to present Project Plume next, which is still mostly just an idea compared to the other initiatives that have already proven to have a great impact on the industry as well on writing and translating communities. I spoke about why the project started, quoting Alex Zucker and Julia Sherwood's article 10 Books By Czech Women We'd Like To See In English, our manifesto of "progressive publishing", Issue Zero, and my quest to fundraise for future projects.
Helen Vassallo closed our panel with an inspiring speech, touching on her Translating Women blog and popular @translatewomen Twitter account. She told us about her own 'snap!' moment, a combination of reading the novel The Vegetarian by Han Kang, translated from the Korean by Deborah Smith and receiving a Tilted Axis subscription for her birthday which made her realise she wanted to champion the cause of translating women. This speech "from the heart", as she put it, was the perfect way to end the panel given it was thanks to her and Dr. Castro's passion that so all of us were there in the first place.
*
NETWORKS OF TRANSLATION 
We got a lot of well-researched facts on the publishing industry from Oisin Harris, an independent scholar in publishing studies. Harris presented a range of interrelated causes to why women in translation in the English-language books industry remain underrepresented. His findings recall common culprits like unconscious bias, citing Katy Derbyshire who reported pitching 50% women while getting commissioned mainly to translate men.
Muireann Maguire gave an exciting talk about Russian best-sellers dealing with politically-sensitive post-Soviet women writers, the powerful novel Zuleikha by Guzel Yakhina about a soldier in exile in Siberia in the 1930's and 40's translated by Lisa Hayden for Oneworld Publications, and The Mountain and The Wall by Alisa Ganieva from Dagestan, translated by Carol Apollonio for Deep Vellum. I'm definitely adding more books to my shelf!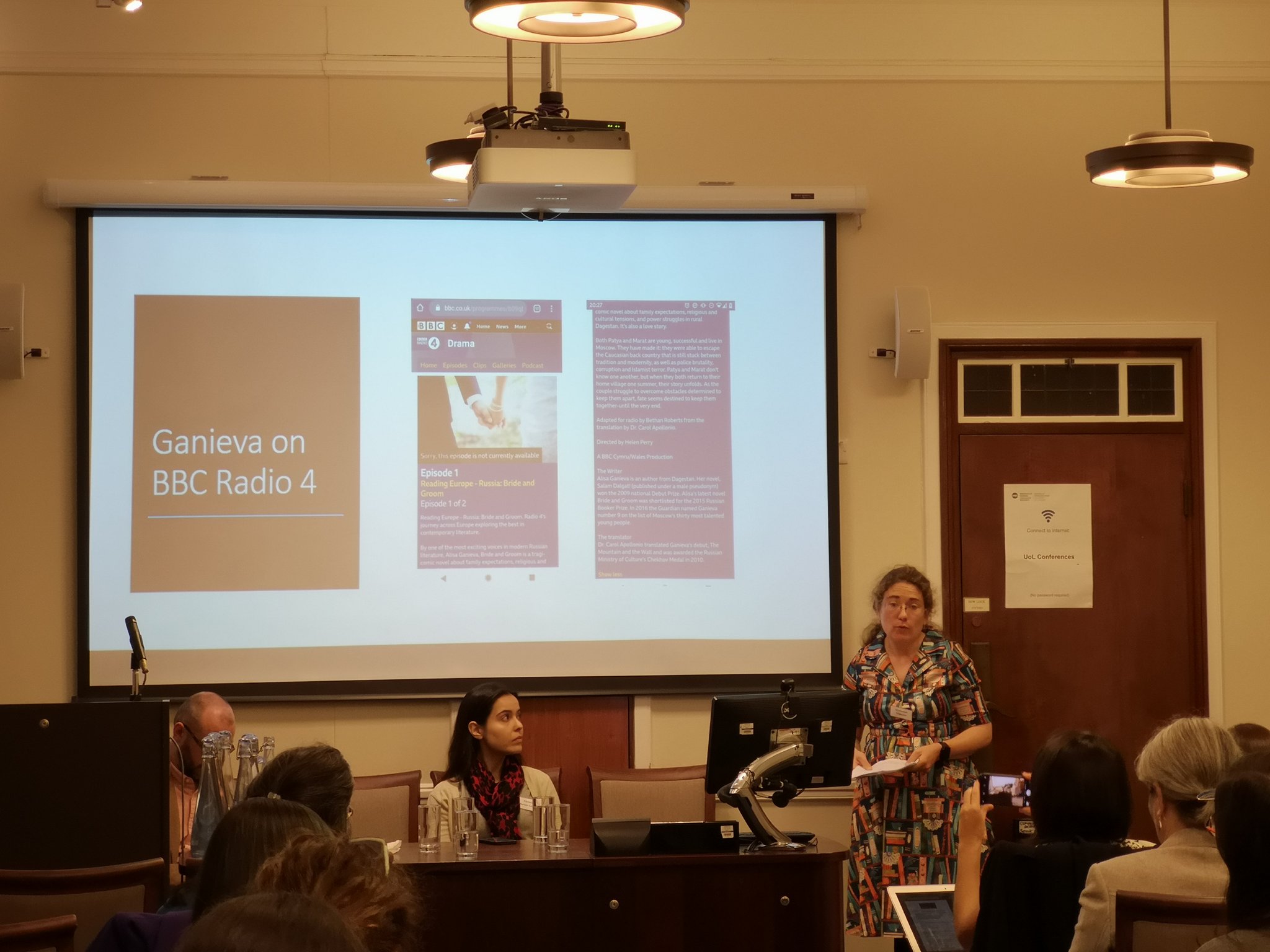 Coming all the way from Sao Paolo, Pámela Berton Costa analysed the paratext of The House of Spirits by Isabel Allende (another one to add to the reading list!) as a case study. She argued Allende's work is discriminated against as "just" women's literature rather than literary canon, comparing it to Gaberiel Garcia Marquez's One Hundred Years Of Solitude, which is considered to the singular Latin American work by English-language readers. 
"If Gabriel Garcia Marquez was the author, would there be so much focus on romance, so many adjectives?" wonders Berton Costa. She talked about this example in context of the late 20th Century "Post-boom" literary movement in Latin America which actively brought female experiences into the forefront of fiction as well as "[setting] the tone of what is expected of Latin American writers in the west" today.
Şule Akdoğan discussed how contemporary Turkish women writers in English translation are perceived in the West, in particular the pressure for Turkish women writers to double as political representatives. "It is often the most powerful story that shapes the truth," said Akdoğan, as she presented the ways in which translation thus becomes a way of reinforcing the same stereotypes that commodifies an entire demographic. She concluded, "I believe translation can create resistance to cultural hegemony."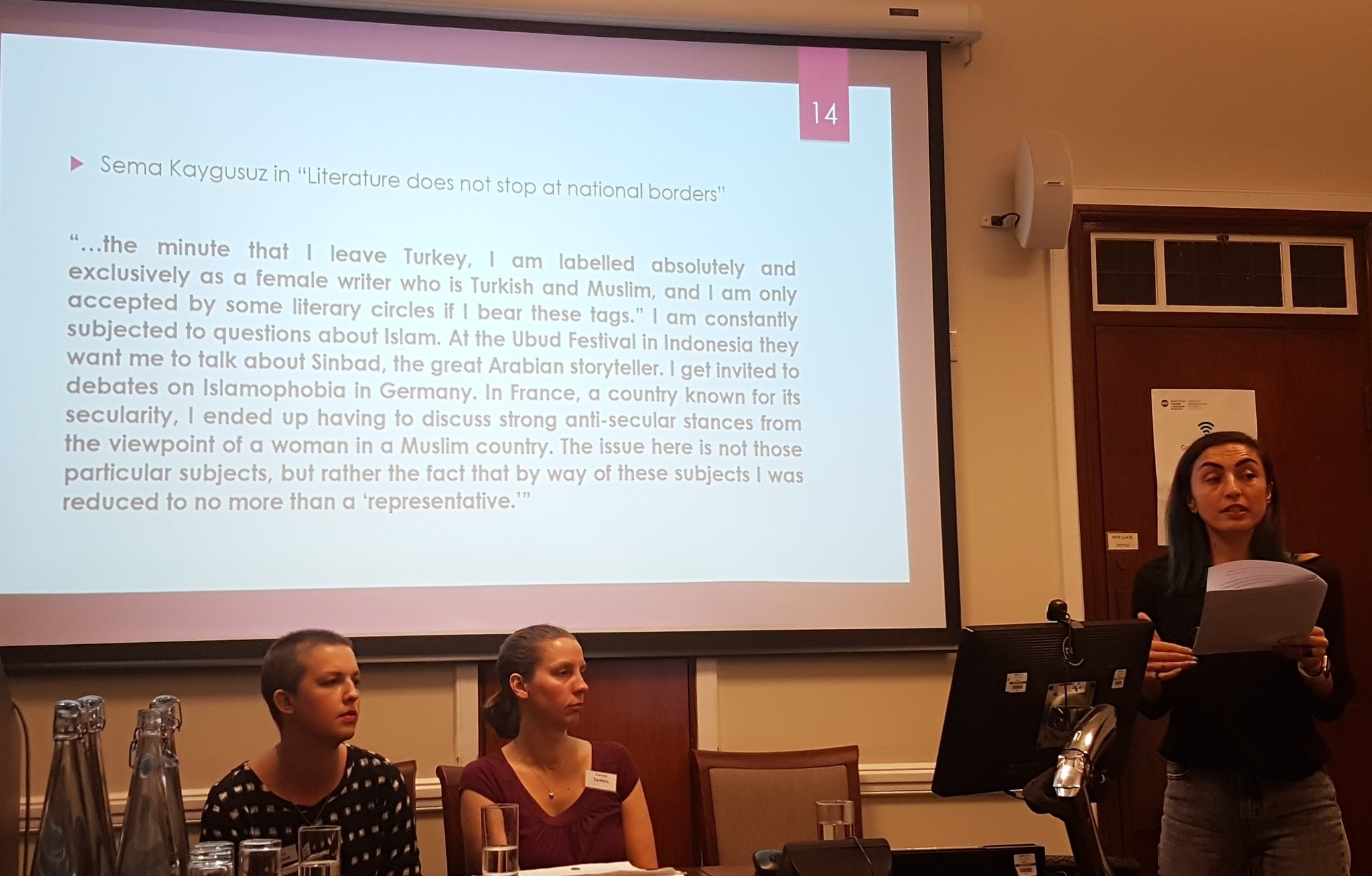 We were then given a perspective from the USA by the translator and research fellow at the University of Amherst, Corine Tachtiris who talked about intersectional feminism and allyship in translation. She looked around the room and observed that she was seeing a lot of women in the room but "mostly white faces", acknowledging that while women make up the large majority of the US translation community, there is a great lack of ethnic diversity. As much as 83% of surveyed translators reported themselves to be white (according to data compiled by translators Jessica Cohen and Alex Zucker with the Authors Guild in 2017). This is particularly problematic when we see that "women [authors] of colour in translation are the least represented demographic".
Tachitiris explained that while allyship — when people in a position of power help someone in a weaker position — is important, there are limits to it, and mentioned the danger of the translator "taking up too much space".  In addition to quoting the antiracist pledge to "listen, shut up, and read", Tachtiris concludes that most useful sort of allyship is to create pathways into the profession and encourage a translation community of more diverse backgrounds.
THE GEOPOLITICS OF TRANSLATION
Olivia Hellewell, translator of the Slovenian, started her talk on "supply-driven" translation by noting that out of the 35 books translated from Slovenian into English, only 4 are by women (one of which, None Like Her by Jela Krečič, she translated herself in 2016).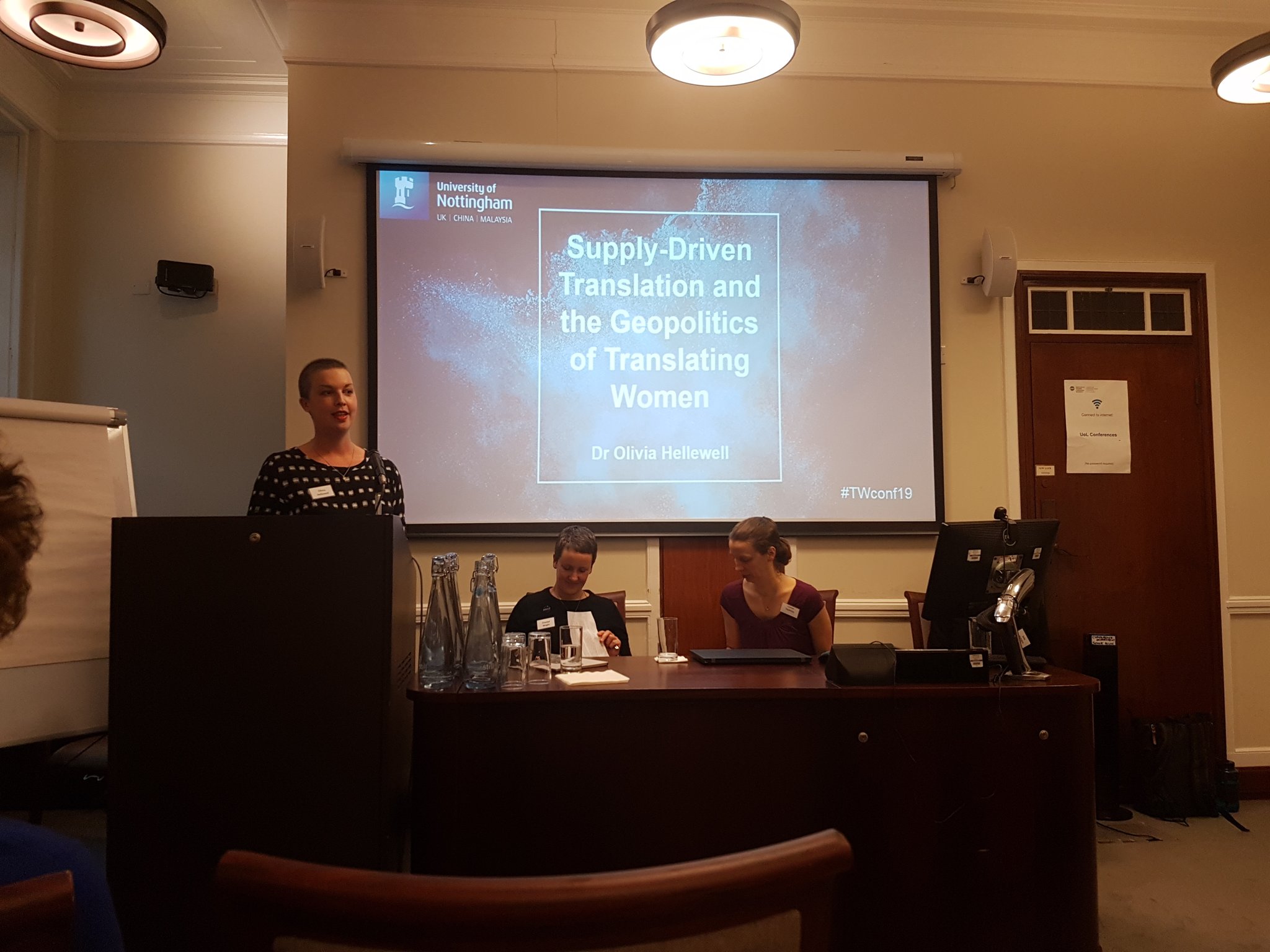 Hellewell showed how most translations are funded by government-sponsored grants from the source country. Her message was that to get to the root of why there is such a lack of female writers in translation, we need to "build bridges we need to know what's on the other side of the terrain". Hellewell also added that funding "often comes down to who is good at paperwork and can navigate the bureaucracy".
Monica Manolachi, translator of English and Associate Professor of English literature at the University of Buncharest, gave a very interesting talk about Romanian women novelists. While female novelists boast a long national history dating back to the 19th Century, they have since been completely written out of the literary canon, not featured in school syllabi, let along taught at university level. Manolachi also identified how, while translation could help bring these women into the spotlight, there is a lack of qualified literary translators from Romanian to English. Manolachi showed us how the efforts towards training start at home, with an MA program in translation at University of Bucharest as well as various workshops and masterclasses organised with partnering institutions.
Mohammad Shafiqul Islam traveled all the way from Bangladesh, where he is professor of English Literature at Shahjalal University of Science and Technology and a poet. He talked about the major problem facing the representation of Bengali literature abroad, including lack of qualified translators as well as a low representation of women writers in the national publishing industry. The situation can only improve and, said Shafiq Islam, it already is. He named various women writers who are leading the change, some of whom are also being translated into English, including Selina Hossain, Shaheen Akhtar, Taslima Nasrin, Nasreen Jahan, and Rizia Rahman, among others. 
As the last presentation of the programme, Leticia de la Paz of the University of Almería talked about the Spanish novelist Sara Mesa,  who has authored seven books with many of them best-selling at home while only one has made it to the English-language market. "Mesa in her literature tries to shine a light on all that is invisible," said De La Paz, "in this way. she shines a light on normality." But she also explains how this is both she believes Mesa's work should be translated, as well as being the reason why the literature remains sidelined by international publishers: because of its perceived ideological power. This left us with the perfect amount of food for thought to chew on after a day of riveting presentations.
ARIANA HARWICZ AND ANNIE MCDERMOTT (WITH CAROLINE ORLOFF) ON DIE, MY LOVE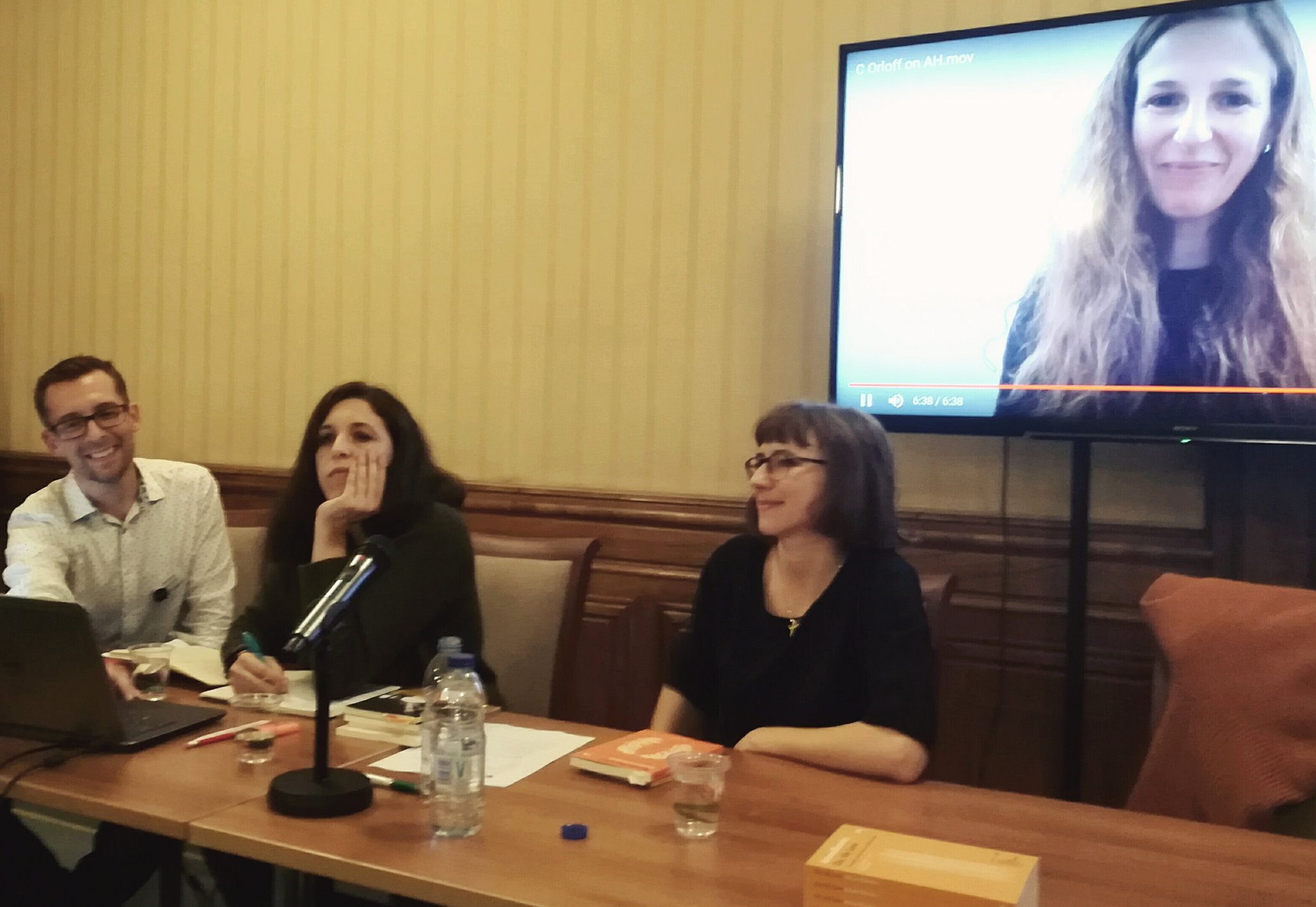 After toasting to some bubbly to mark the end of what was a fantastic programme of talks, we moved on to the final event of the conference, an encounter between acclaimed Argentinian writer Ariana Harwicz and translator/editor Annie McDermott on the books Die, My Love (2017, Charco Press) and Feebleminded (2019, Charco Press) in a discussion chaired by Richard Mansell.
Since Orloff could not be physically present with us, her face was beamed through a large screen via Youtube video. She began first by talking about the unique experience of translating Die, My Love: "The poetry and the music of Ariana's prose are directly linked and make the spinal cord of the style, " she said, explaining that Harwicz got very involved herself in the process. "It's not the case of jargon … to me, it was how to implement the musicality of the style." Meanwhile, Annie McDermont, unlike Tina Kover, said that her approach is to distance herself from the text: "I feel translation is very much about going away from the original and then being brave enough to go back."
Harwicz provided no shortage of quotable quotes. The first thing she told the room when given the mic is, "I am an atheist but I believe in the translator." She added, however, that "'Doestewsky in Spanish' is clearly not 'Dostewsky'" and while acknowledging Die, My Love is a very good translation, that every translation is a sort of rewriting. "It's like meeting someone thirty years later. it's the same person but [it's not]. It's my book, but it's it not really my book."
"Writers and translators need to fight against lexical censorship of the publishers," added Harwicz, giving the example of how she had to argue a French publisher's wish to "choose a word that would soften the theme to make it more palatable or politically correct". She also said there's a danger in publisher or translators' own politics getting in the way, "making the question of translator visibility interesting" as this can imply they stand behind the ideas in the text.
When asked about her views on women in translation, Harwicz said she believed they needed to be championed but implied that book marketing need not be gendered: "No one wants to walk into a bookstore and see men on one side, women on the other." Finally, Harwicz talked about parallels between the writing and translation processes. "Translation is a sacrifice, and [so is[ writing. The translator asks themselves the same question as the writer: 'Why choose this word and not that word?'"
The recording of this encounter will soon be made available by the website of the Institute of Modern Languages Research.
*
And that marked the end of what was a remarkable conference all-around! In retrospect, I appreciate the 'slow' form of blog reportage because it allows one to process and let the learnings simmer. It was also nice to relive the event. I had some of the most interesting conversations over those two days with some inspiring people, and feel revitalized in the run-up to Project Plume's quest to get Issue Zero out into the world.
Co-organisers Dr. Helen Vassallo and Dr. Olga Castre / Photo via @OlgaCastro80 Twitter account
I think my favourite part of the conference was how the multi-faceted roots of the problems were also met with encouraging solutions. To me, this was more than just a meet-up to exchange ideas, but a bridging of academic, artistic and professional practices to fight for common values. Once again, a million thanks to Dr. Olga Castro and Dr. Helen Vassallo for putting together such a fine event full of wonderful speakers. I'm already looking forward to a Translating Women 2!
---
Salwa Benaissa is the founder of Project Plume.